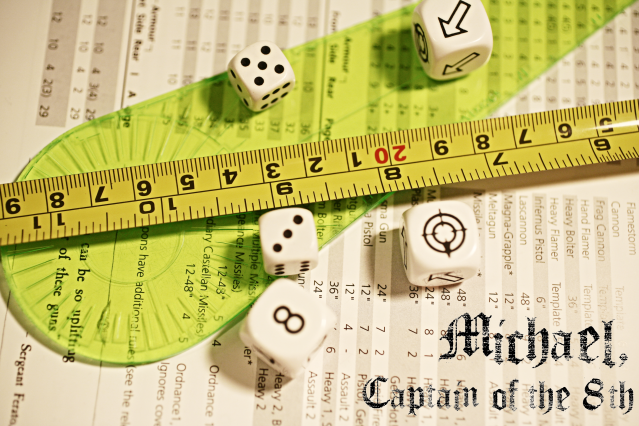 Photobucket" border="0">
The Capt of the 8th is back, this time with a battle report. And an ethical dilemma that we have probably all run into. This made for a very interesting game. Let's get some back story though.
Rewind about a month, and I'm across the table from an Eldar player. He's got 6 tanks on the table, 3 w/ fire dragons, and 3 with warriors, I think, and Eldrad hanging out in there somewhere. I am playing a hybrid Angels list. 3x las/plas razors 2x dakka preds, and 2x terminators w/ 2x cyclone missile launchers each. We are playing annihilation, and true to the title, he gets annihilated. We call the game turn four, 5kp to 1kp in my favor. I would have tabled him next turn, but there is no need to rub salt in the wound. I trounced him fair and square.
So here we are again across the table to play another pick up game. He has a small Dark Eldar army he is building up and wants to use it instead of a full blown 2000 pt game. He tells me he has 1,150 points ready to go. So I trim
this list
down to fit.
Librarian, Shield, Lance and JP
Techmarine, jp, combi-melta, and power weapon
Sanguinary priest w/ jp
Sanguinary priest on foot
2x 10 man assault squads, power weapon on sarge, and 2x melta guns
Flamestorm Baal predator
2x 5 man Dev squads w/ 4x missile launchers each
1,150 on the spot. Seemed like a balanced list to me. Anti-tank and anti-horde.
He has this list, as best as I can remember. It's not perfect, but its about 95% accurate keep in mind.
Lelith Hesperax
Archon- Soultrap, Huskblade, Shadow-field, combat drugs, and Ghost Plate I think.
10x Incubi
3x 10 man kabalite squads each with Blaster, splinter cannon, Sarge upgrade, power weapon and blast pistol.
4x Raiders with Flickerfields, chain snares, splinter racks and Grisly trophies
We roll Spearhead and Annihilation, and I get the roll to go first. I place my Devs in a ruin for the 3+ save with a Priest to babysit, and reserve the rest. He then places his four Raiders in a ruin clustered together to try and generate cover. Now I deployed poorly, in that I placed my devs so only a few of them could draw LOS down field the the windows in the ruins. Stupid move by me, and was a major contributor to this debacle. Oh well, you live and learn.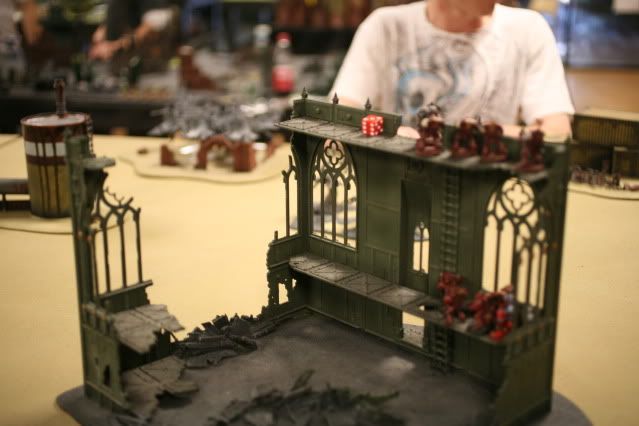 Photobucket" border="0">
(Here is deployment, the Deldar army is the gray blur left of the building. Sorry for the bad image quality, I need to change the f-stop or something on the camera. No depth of focus. . . .)
At this point he starts rolling for combat drugs, and he wants to roll multiple dice. I then tell him that in the new codex drugs have been streamlined and that you only roll once, and the result is applied to the whole army. He tells me I'm full of it and wants to roll for each unit with drugs. We go back and forth until he has to appeal to the store manager as an impartial judge. We show him the codex and of course reason and fundamental reading comprehension win out. So he then rolls one die and gets +1 str for his Archon.
The game then opens and I have first turn. LOS is blocked because of my stupid deployment, so I shoot the missiles that I can. I fire first at his Raider with Lelith in it. I really had no answer to her, other than taking her out of the equation by wrecking her ride. I smoked her raider with a well placed shot. It blows up and I put 8 wounds on the squad inside, he then makes 6 5+ saves.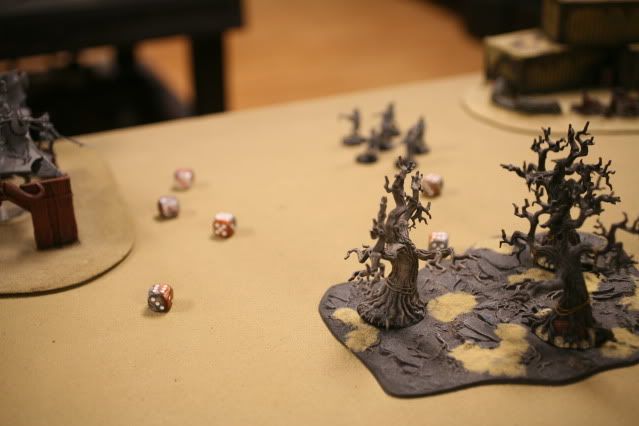 Oh well, I can live with that.
This is the point that I realize he has 2 of the 4 Raiders with 11 models in them. What a joke. I'm wondering at this point if the guy even read his codex. Raiders can only transport 10 models. This way he gets the benefits of the 10 man squad, and he has room to carry around his heavy hitters, namely Lelith and the Archon. I don't want to hear him whine and cry about it, especially since he was complaining about losing his Raider already. So I let it slide.
But did I make the right decision? It is a friendly pick-up game, do I call the guy out on it? Is he trying to cheat, or is he just ignorant of the rules? Would I do him a favor by pointing out the correct rules, or will I just ruffle his feathers some more and make the game less enjoyable for the both of us? I suppose we will never know, we just don't have the technology.
So my shooting is over, and he then turbo-boosts his Raiders directly towards me. He has the two warrior squads come right at me, but his Archon takes a more indirect approach. He then wants to fire at me out of all the transports. Correct me if I am wrong, but open-topped or not I thought you can't fire at all when you are going flat out. I start to look in the book for the relevant rules, and he starts complaining again. I don't know where to look exactly for them, in the vehicle shooting rules, or the skimmer movement rules, so I decide not to throw my brick of dice at the dude and let this one slide as well. He kills a few devastators with his shooting, nothing too serious.
(Archons ride is over to the left)
My second turn everything from reserve comes in. This is the first time this has ever happened to me. And even better, nothing mishaps! I am learning after all how to place units and judge distances better. Everything drops in with good melta range all around and my Baal out-flanks on from the correct edge and all is looking well.
I will later come to realize my mistake in letting the Archon alone. I proceed to fire my Blood Lance at both his tanks, getting penetrating hits on both. He rolls his saves from flat out movement and gets a 3 and 4 and tells me they both save. I just have to laugh to myself at this point. I know where to find this rule in the book so I pull it out and show him.
Again, is he cheating or does he just not know the rules? Is he trying to take advantage of me, or just an inexperienced player? I don't know. I'm the type of person that would rather give the benefit of the doubt and let the game go smoothly, rather than get into a fight about toy soldiers.
So I blow up both the raiders with all the melta, and gun down some of the survivors as well with my pistols. I can't draw LOS to his Raider with the Archon with my missiles, so it gets ignored another turn. My devs instead choose to fire at the stranded squad of his in the ruins with Lelith. I don't really want to scatter onto my own troops, because even just one unsaved wound hurts in a combat squad. So I played it safe and maybe killed one warrior on the opposite side of the board.
So that ended turn 2 for both of us. I'm going to cut this post in half; I don't want to loose some of the important points in the wall of text.
Let's talk about sportsmanship then. What are the prevailing opinions out there regarding what happened? Do you interrupt the game to set the dude straight. Do you risk the game running smoothly to show that you know the rules better than the other guy? When do you make the jump from "this guy needs to learn the game" to "this guy is a cheater weasel"? And can I chalk this up to petty vindictiveness, because my sub-par foot Terminator list curb stomped his Eldar? In addition, I don't want to get a "rules lawyer" label in the store. I'm a relative newcomer there, and this dude has been playing there awhile and seems to know everyone else. I'd like to be able to play games in the future, but I'd also like to play by the rules.
I'd like to hear your thoughts, because I don't know that I handled it the right way. Chime in with your collective wisdom please. Inquiring minds would like to know!
And keep your eyes peeled to see the exciting conclusion to this riveting game! Will those Incubi get their revenge in the end? Or will your intrepid hero end the game with a well placed missile to the Archon's measly face? Tune in next week, same Blood Angel time, same Blood Angel channel!
Michael, Capt of the 8th